Two-cycle oils
Get going, be on the road - experience the feeling of freedom or simply pursue that thrill of an adrenaline kick. Whether it's motorcycle, moped, scooter, trike, quad or cart. No matter if you are on the road, off-road or on the race track. Reliability will always remain one of the key elements and one of the greatest challenges. We offer you engine transmission fluids that are ideally suited to the unique requirements of your two-wheeled vehicle. As two-wheeled vehicles are often equipped with oil-immersed clutches, we must also consider the associated requirements in the development of these engine transmission fluids. Furthermore, additional special requirements, resulting from the often unique engineering designs of engines and transmissions, must be precisely understood and incorporated into the development process. Only by doing so can we adapt our HIGHTEC two-wheeled vehicle transmission fluids to perfectly meet the given conditions and deliver the best performance. We consistently offer you the best lubricants for all engine designs - whether you own a 2- or 4-stroke engine, with ROWE you can rest assured that you will always have a reliable companion at your side to protect and care for your motorcycle.
The SAE classification explains

The SAE classification roughly divides the different engine oils into classes of different flow behaviour.

The number before (5W-30) indicates the lowest temperature at which the oil is still pumping. The number after the W (5W-30) indicates the flow behaviour at 100°C.
30
1159#1777#1897#1898#1899#1902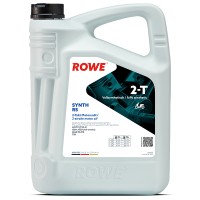 Fully synthetic, high-performance, 2-stroke premium engine oil for air-cooled and water-cooled 2-stroke engines. Low smoke. This product guarantees absolute lubrication safety even under extreme conditions. Best suitable for both premix- and oil-injection lubrication.