Motor boat oils
ROWE HIGHTEC marine lubricants offer excellent engine and gear protection under all circumstances and ensure the best performance. Both in racing and under everyday conditions, our marine lubricants prove their performance every day. Whether you rely on our lubricants for inland navigation, on the high seas or in various racing series up to Formula 1 powerboats. With many years of experience and research, we are able to develop the best lubricants for your marine craft and to meet the specific requirements of the operating conditions in the best possible way. When it comes to long-term component protection and maximum engine performance, ROWE HIGHTEC marine lubricants will always provide you with a reliable solution. In this area, we offer you 2-and 4-stroke engine oils for both inboard and outboard motors as well as heavy-duty transmission fluids.
The SAE classification explains

The SAE classification roughly divides the different engine oils into classes of different flow behaviour.

The number before (5W-30) indicates the lowest temperature at which the oil is still pumping. The number after the W (5W-30) indicates the flow behaviour at 100°C.
34
101#1794#1843#1855#1870#1872#1886#1887#1888#1889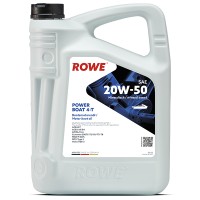 35
33#106#1817#1886